After a year or so hiatus, what better date to recommence the Star Wars themed Seight Sport Sprint Wars than on May the 4th (Be With You). With an interesting mix of experienced and first timer Elites and Juniors incorporating a smattering of 'not-the-usual-suspects' endurance riders, it was sure to be a fascinating night of Match Sprinting.
With a few riders opting to 'pre-qualify' to shorten the time taken to run through qualifying, the fastest on-the-night qualifier was Rohan Wight and visiting WA rider Dharlia Haines was the fastest woman. The fastest U17 rider, (competing on their limited gear roll-out), was a dead-heat between two riders, Hamish Barton and PACC's Charlie Abel, with a great time of 12.06
With qualifying done, the field was broken up into 4 groups based on qualifying times and the Match Sprints began, with each group battling it out to contest the group final and win the coveted Sprint Wars socks.
In the A group final, the bookies might have had better odds on the more experienced Carlos Carisimo, but without a qualifying to gauge current form, it was never a foregone conclusion against PACC's Maxwell Liebeknecht. The last time Liebeknecht competed in a Sprint Wars was as an U17 and with a qualifying time of 12.3. He showed he has come a long way in just over 12 months to just out-throw Carisimo in an entertaining final race.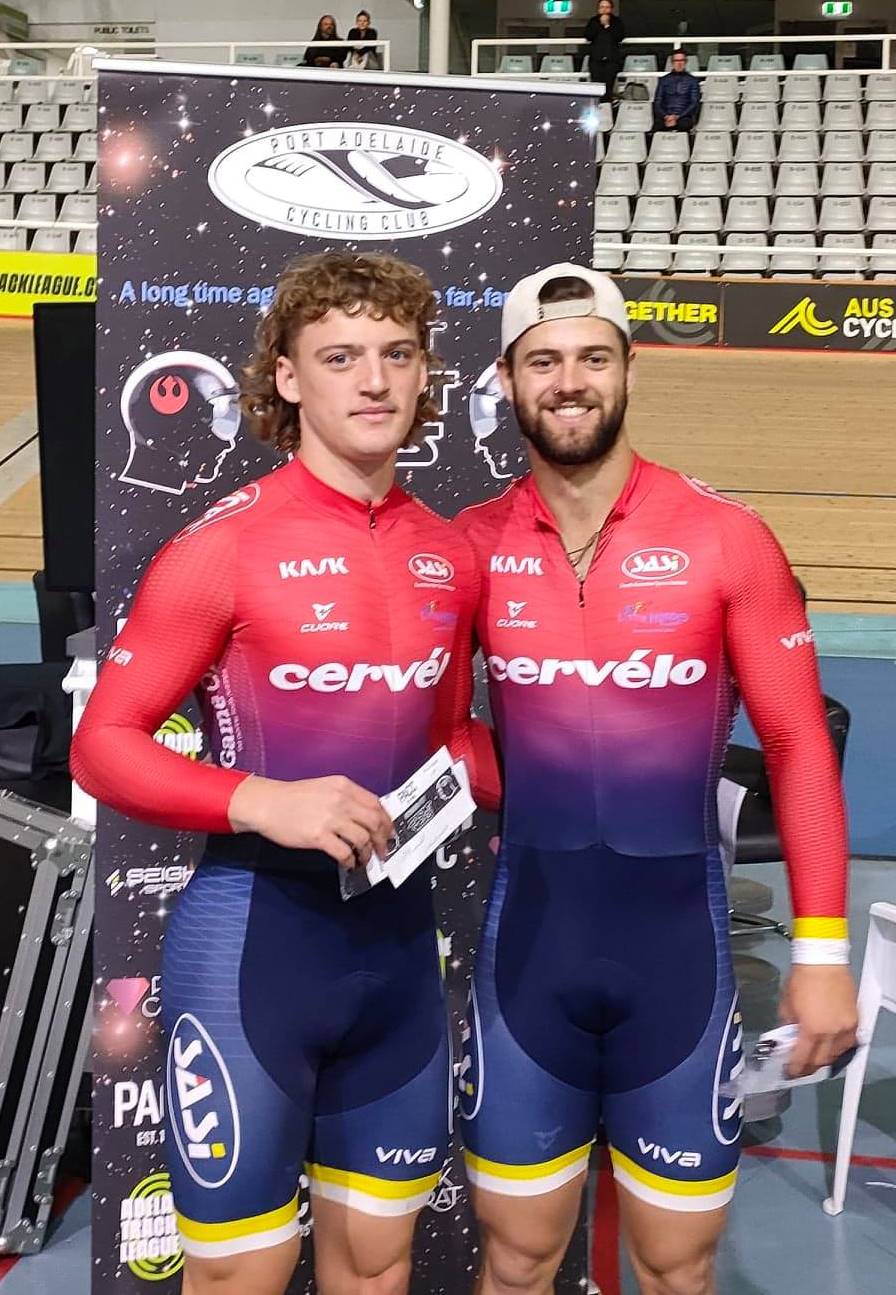 Unfortunately, in the B group final, the race was decided by a first lap slow speed fall that put both Jackson Williams and long-time Sprint Wars supporter Simon Eglinton on the deck. Williams was unable to restart due to a mechanical, so Eglinton took the win.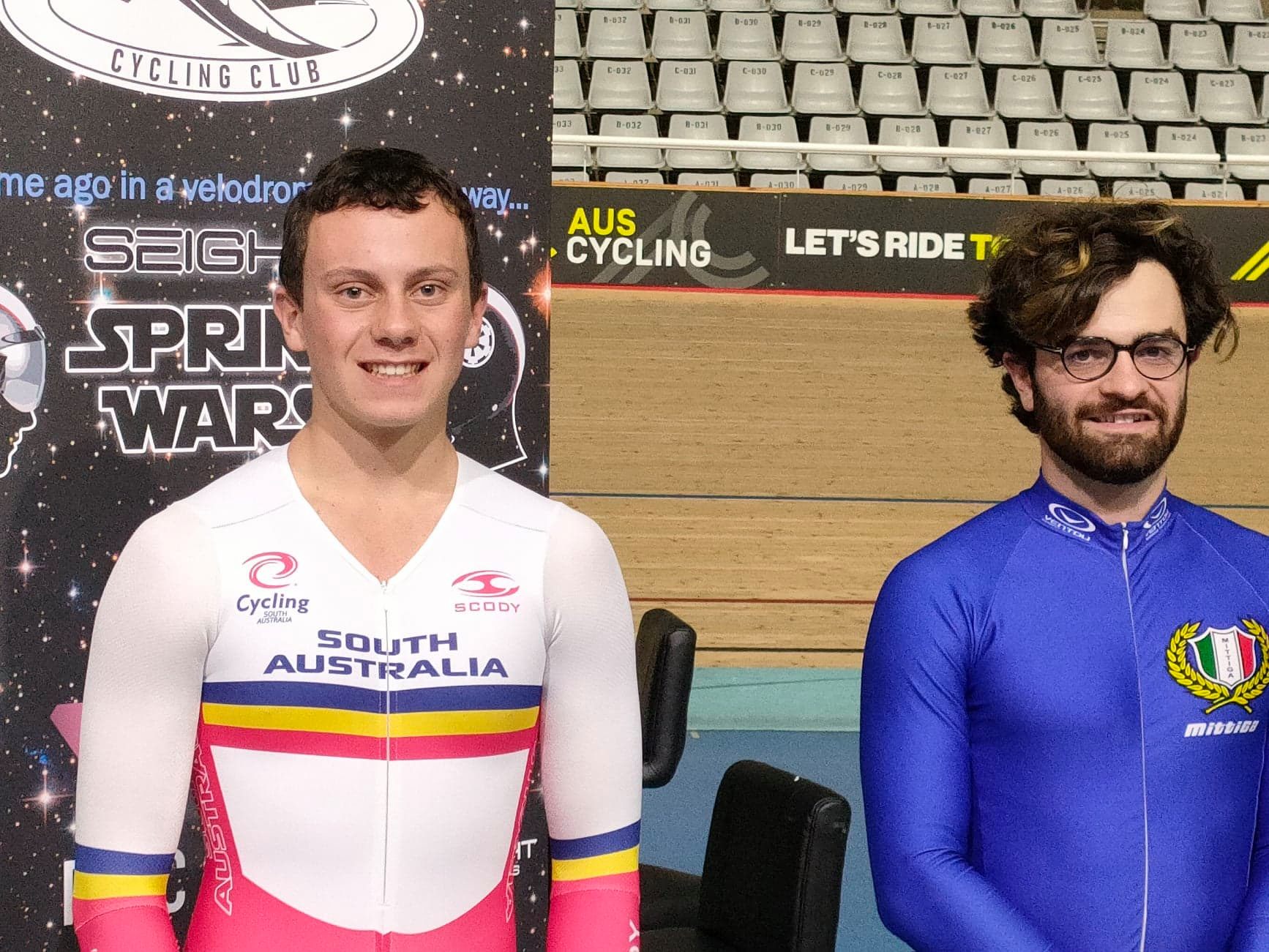 The C group field had the tightest spread of qualifying times, and an interesting mix of pure sprinters and enduros making for close, if not unconventional racing. The final came down to PACC's Andy Rogers, often behind the camera lens at cycling events, and relative PACC newcomer and U17, Tayte Ryan. On limited U17 gearing, Ryan put up a great fight but Rogers was able to use the bigger gear available to him to ride over the top.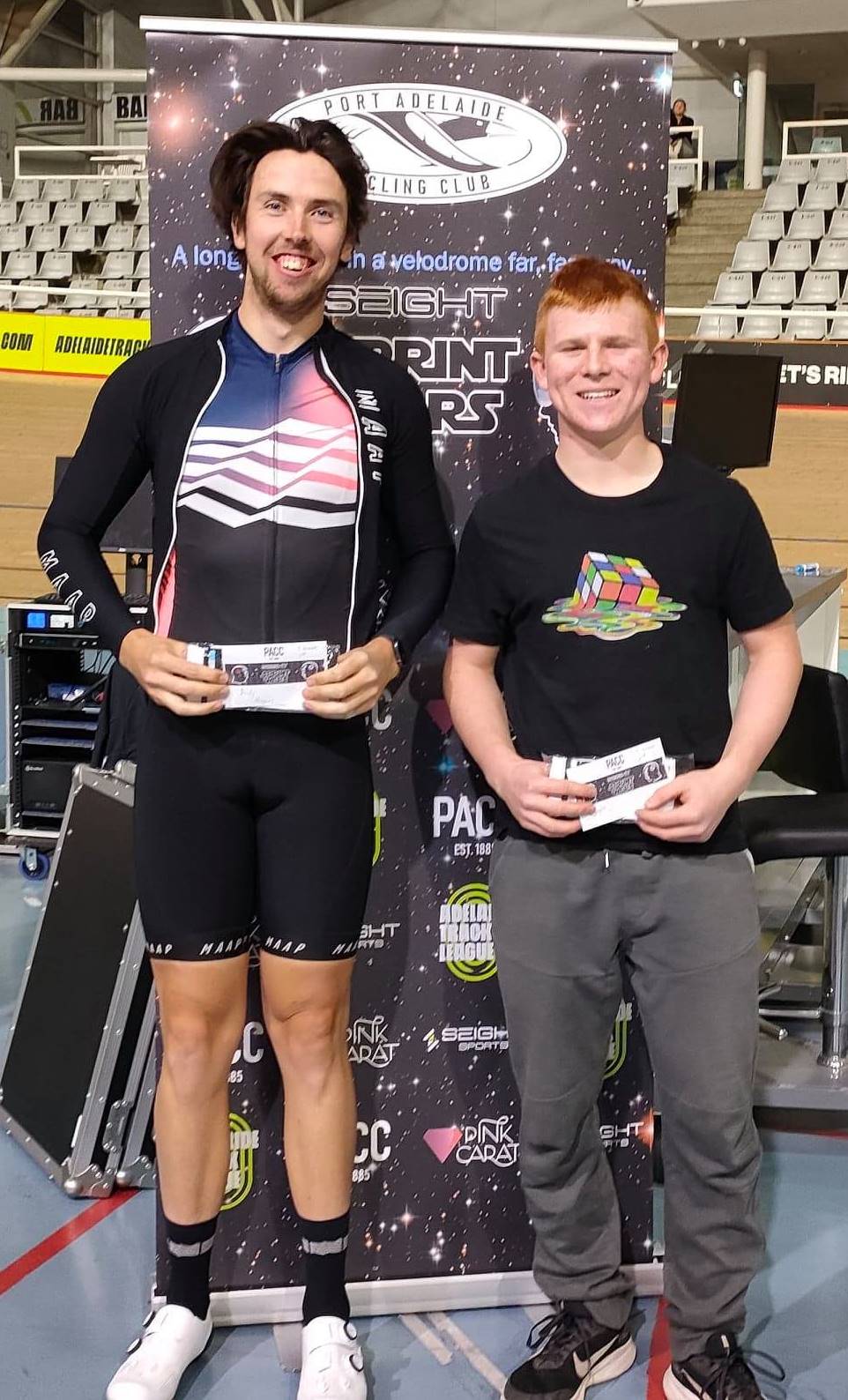 The D group final was an all-women affair, between two riders typically more at home riding Pursuits – PACC's Kat Chung-Orr and Sprint Wars debutant (and relative newcomer to Track in general) Celia Cowan. Chung-Orr showed some clever tactics to make the final and Cowan rose above her lower qualifying time to also be there but despite closing quickly at the end, was unable to close the distance to the fast-finishing Chung-Orr who held on for the win.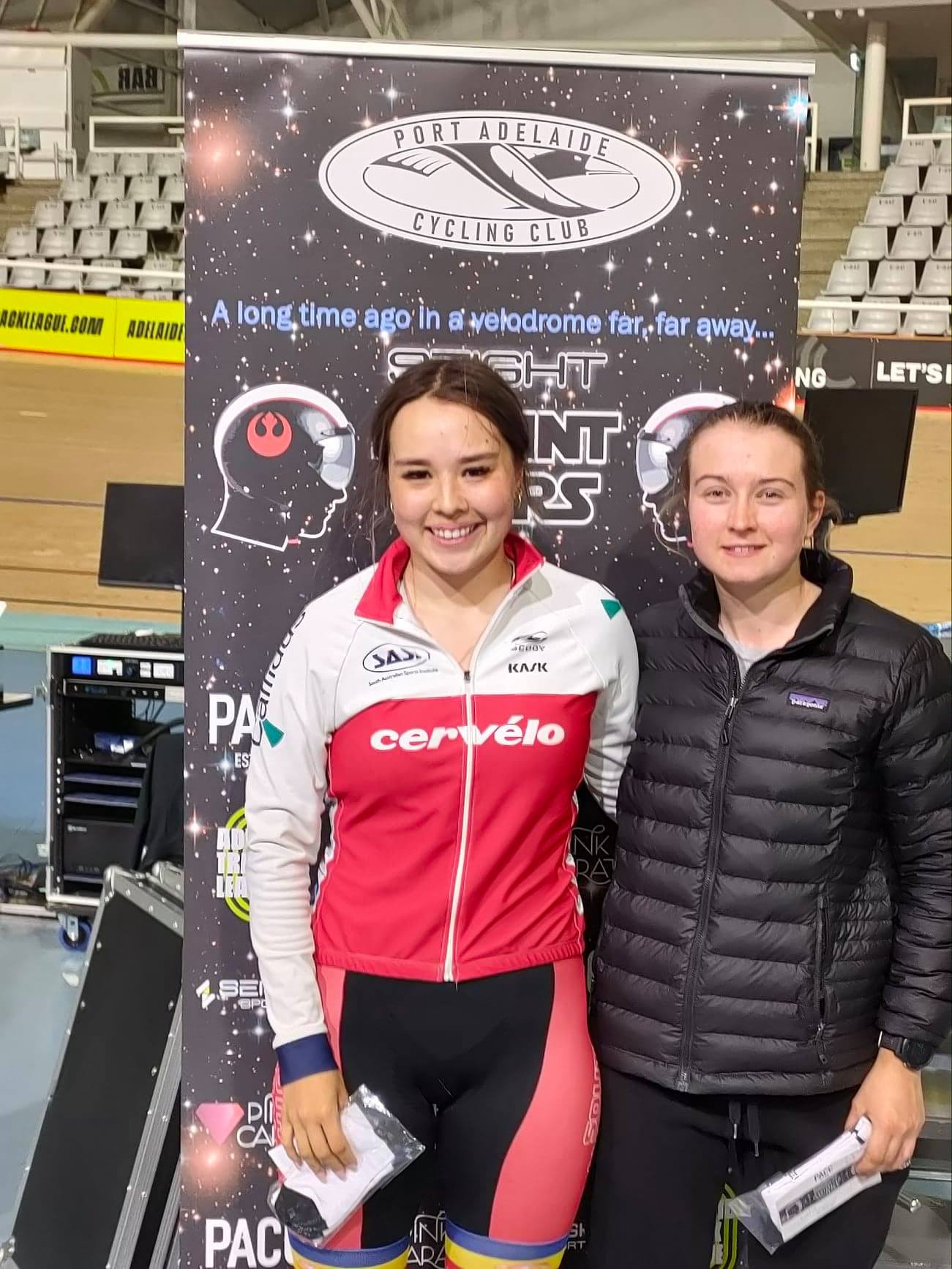 Hopefully everyone had a bit of fun and PACC looks forward to seeing you back at the next event on Tuesday 15 June.
Thanks to all the Commissaires & volunteers that got this event happening, Lachie & Jake from the ACSA office for their help, James Glasspool for teeing up all the SASI athletes, John Kelly on the mic and Brett Aitken for doing a bit of rider holding for the finals.
See below for the entire night's results.
Qualifying

Qual

Race #

Name

F200 Time

Group A

1

1

CARISIMO, Carlos

*

10.00

2

2

LIEBEKNECHT, Maxwell

*

10.30

3

3

STANTON, Dylan

*

10.50

4

7

WARD, Caitlin

*

11.10

5

10

WIGHT, Rohan

11.19

6

4

GLASSPOOL, James

11.21

7

5

BLEDDYN, Oliver

11.27

8

8

ZIMMERMANN, Leo

11.50

Group B

9

9

SIBLEY, Ella

*

11.50

10

6

EGLINTON, Simon

11.78

11

13

BARTON, Hamish

12.06

12

14

ABEL, Charlie

12.06

13

15

O'SHEA, Glenn

12.06

14

12

DRAKE, Dan

12.09

15

16

WILLIAMS, Jackson

12.16

16

19

TUCKER, Kalan

12.43

Group C

17

11

GOLDFINCH, Dale

12.53

18

28

ROGERS, Andy

12.54

19

17

HAINES, Dharlia

12.61

20

22

RYAN, Tayte

12.71

21

21

KEY, Jameson

12.72

22

20

GRAY, Anna Rose

12.83

23

31

THOMAS, Jake

12.90

24

23

PATE, Amber

12.94

Group D

25

29

AMBROSE, Lachlan

12.94

26

18

CHUNG-ORR, Katarina

13.03

27

30

GREEN, Elisabeth

13.38

28

26

YOUNG, Michael

13.56

29

33

MAY, Penny

13.69

30

24

COWAN, Celia

13.71

31

25

ROBERTS, Jordan

13.75

32

35

OATES, Kerran

14.29

33

27

WYELD, Ted

14.53

34

32

DEVITT, Michael

14.64

35

34

NIEJALKE, Simone

14.73
* = pre-qualifying time
Round 1

Group D

33

MAY, Penny

vs

34

NIEJALKE, Simone

35

OATES, Kerran

Winner

33

MAY, Penny

25

ROBERTS, Jordan

vs

32

DEVITT, Michael

Winner

32

DEVITT, Michael

24

COWAN, Celia

vs

27

WYELD, Ted

Winner

24

COWAN, Celia

18

CHUNG-ORR, Katarina

vs

26

YOUNG, Michael

Winner

18

CHUNG-ORR, Katarina

29

AMBROSE, Lachlan

vs

30

GREEN, Elisabeth

Winner

29

AMBROSE, Lachlan

Group C

20

GRAY, Anna Rose

vs

23

PATE, Amber

Winner

20

GRAY, Anna Rose

21

KEY, Jameson

vs

31

THOMAS, Jake

Winner

21

KEY, Jameson

28

ROGERS, Andy

vs

22

RYAN, Tayte

Winner

22

RYAN, Tayte

11

GOLDFINCH, Dale

vs

17

HAINES, Dharlia

Winner

11

GOLDFINCH, Dale

Group B

12

DRAKE, Dan

vs

19

TUCKER, Kalan

Winner

12

DRAKE, Dan

15

O'SHEA, Glenn

vs

16

WILLIAMS, Jackson

Winner

16

WILLIAMS, Jackson

6

EGLINTON, Simon

vs

14

ABEL, Charlie

Winner

6

EGLINTON, Simon

9

SIBLEY, Ella

vs

13

BARTON, Hamish

Winner

13

BARTON, Hamish

Group A

4

GLASSPOOL, James

vs

8

ZIMMERMANN, Leo

Winner

8

ZIMMERMANN, Leo

10

WIGHT, Rohan

vs

5

BLEDDYN, Oliver

Winner

5

BLEDDYN, Oliver

2

LIEBEKNECHT, Maxwell

vs

7

WARD, Caitlin

Winner

2

LIEBEKNECHT, Maxwell

1

CARISIMO, Carlos

vs

3

STANTON, Dylan

Winner

1

CARISIMO, Carlos
Round 2

Group D

Repechage

Result

26

YOUNG, Michael

26

YOUNG, Michael

27

WYELD, Ted

27

WYELD, Ted

25

ROBERTS, Jordan

25

ROBERTS, Jordan

34

NIEJALKE, Simone

vs

35

OATES, Kerran

Winner

34

NIEJALKE, Simone

33

MAY, Penny

vs

30

GREEN, Elisabeth

Winner

33

MAY, Penny

18

CHUNG-ORR, Katarina

vs

32

DEVITT, Michael

Winner

18

CHUNG-ORR, Katarina

29

AMBROSE, Lachlan

vs

24

COWAN, Celia

Winner

24

COWAN, Celia

Group C

Repechage

Result

17

HAINES, Dharlia

28

ROGERS, Andy

28

ROGERS, Andy

17

HAINES, Dharlia

31

THOMAS, Jake

31

THOMAS, Jake

23

PATE, Amber

23

PATE, Amber

22

RYAN, Tayte

vs

20

GRAY, Anna Rose

Winner

22

RYAN, Tayte

11

GOLDFINCH, Dale

vs

21

KEY, Jameson

Winner

11

GOLDFINCH, Dale

Group B

Repechage

Result

9

SIBLEY, Ella

15

O'SHEA, Glenn

14

ABEL, Charlie

14

ABEL, Charlie

15

O'SHEA, Glenn

9

SIBLEY, Ella

19

TUCKER, Kalan

19

TUCKER, Kalan

6

EGLINTON, Simon

vs

12

DRAKE, Dan

Winner

6

EGLINTON, Simon

13

BARTON, Hamish

vs

16

WILLIAMS, Jackson

Winner

16

WILLIAMS, Jackson

Group A

Repechage

Result

3

STANTON, Dylan

3

STANTON, Dylan

7

WARD, Caitlin

10

WIGHT, Rohan

10

WIGHT, Rohan

4

GLASSPOOL, James

4

GLASSPOOL, James

7

WARD, Caitlin

2

LIEBEKNECHT, Maxwell

vs

8

ZIMMERMANN, Leo

Winner

2

LIEBEKNECHT, Maxwell

1

CARISIMO, Carlos

vs

5

BLEDDYN, Oliver

Winner

1

CARISIMO, Carlos
Round 3

Group D - Consolation

Result

32

DEVITT, Michael

27

WYELD, Ted

27

WYELD, Ted

25

ROBERTS, Jordan

25

ROBERTS, Jordan

32

DEVITT, Michael

34

NIEJALKE, Simone

vs

35

OATES, Kerran

Winner

34

NIEJALKE, Simone

29

AMBROSE, Lachlan

vs

30

GREEN, Elisabeth

Winner

29

AMBROSE, Lachlan

Semi-Final

18

CHUNG-ORR, Katarina

vs

26

YOUNG, Michael

Winner

18

CHUNG-ORR, Katarina

24

COWAN, Celia

vs

33

MAY, Penny

Winner

24

COWAN, Celia

Group C - Consolation

21

KEY, Jameson

vs

20

GRAY, Anna Rose

Winner

21

KEY, Jameson

31

THOMAS, Jake

vs

23

PATE, Amber

Winner

31

THOMAS, Jake

Semi-Final

22

RYAN, Tayte

vs

17

HAINES, Dharlia

Winner

22

RYAN, Tayte

11

GOLDFINCH, Dale

vs

28

ROGERS, Andy

Winner

28

ROGERS, Andy

Group B - Consolation

9

SIBLEY, Ella

vs

13

BARTON, Hamish

Winner

9

SIBLEY, Ella

12

DRAKE, Dan

vs

19

TUCKER, Kalan

Winner

12

DRAKE, Dan

Semi-Final

6

EGLINTON, Simon

vs

14

ABEL, Charlie

Winner

6

EGLINTON, Simon

16

WILLIAMS, Jackson

vs

15

O'SHEA, Glenn

Winner

16

WILLIAMS, Jackson

Group A - Consolation

7

WARD, Caitlin

vs

8

ZIMMERMANN, Leo

Winner

8

ZIMMERMANN, Leo

4

GLASSPOOL, James

vs

5

BLEDDYN, Oliver

Winner

5

BLEDDYN, Oliver

Semi-Final

2

LIEBEKNECHT, Maxwell

vs

3

STANTON, Dylan

Winner

2

LIEBEKNECHT, Maxwell

1

CARISIMO, Carlos

vs

10

WIGHT, Rohan

Winner

1

CARISIMO, Carlos
Finals

Group D

5-9

Result

29

AMBROSE, Lachlan

29

AMBROSE, Lachlan

25

ROBERTS, Jordan

30

GREEN, Elisabeth

32

DEVITT, Michael

27

WYELD, Ted

30

GREEN, Elisabeth

32

DEVITT, Michael

27

WYELD, Ted

25

ROBERTS, Jordan

3-4

26

YOUNG, Michael

vs

33

MAY, Penny

Winner

26

YOUNG, Michael

Final

24

COWAN, Celia

vs

18

CHUNG-ORR, Katarina

Winner

18

CHUNG-ORR, Katarina

Group C

5-8

Result

21

KEY, Jameson

31

THOMAS, Jake

20

GRAY, Anna Rose

23

PATE, Amber

31

THOMAS, Jake

20

GRAY, Anna Rose

23

PATE, Amber

21

KEY, Jameson

3-4

17

HAINES, Dharlia

vs

11

GOLDFINCH, Dale

Winner

11

GOLDFINCH, Dale

Final

28

ROGERS, Andy

vs

22

RYAN, Tayte

Winner

28

ROGERS, Andy

Group B

5-8

Result

9

HARRISON, Josh

12

DRAKE, Dan

13

BARTON, Hamish

13

BARTON, Hamish

12

DRAKE, Dan

9

HARRISON, Josh

19

TUCKER, Kalan

19

TUCKER, Kalan

3-4

14

ABEL, Charlie

vs

15

O'SHEA, Glenn

Winner

14

ABEL, Charlie

Final

16

WILLIAMS, Jackson

vs

6

EGLINTON, Simon

Winner

6

EGLINTON, Simon

Group A

5-8

Result

4

GLASSPOOL, James

5

BLEDDYN, Oliver

5

BLEDDYN, Oliver

7

WARD, Caitlin

7

WARD, Caitlin

8

ZIMMERMANN, Leo

8

ZIMMERMANN, Leo

4

GLASSPOOL, James

3-4

3

STANTON, Dylan

vs

10

WIGHT, Rohan

Winner

10

WIGHT, Rohan

Final

1

CARISIMO, Carlos

vs

2

LIEBEKNECHT, Maxwell

Winner

2

LIEBEKNECHT, Maxwell
News
,
Results
,
Track