Several PACCers along with the SA team travelled to Brisbane, QLD over 12-15 March to race the National Masters Track Championships at the Anna Meares 'Annadome' Velodrome.
It turned out to be one of the very last cycling races likely to be held in a while, with the Junior National Track Championships the following weekend cancelled, and the Elites postponed due to the COVID-19 outbreak. Simone Niejalke, Bron Dolman and Michal 'Evergreen' Young from Port Adelaide CC raced and raced well, with Simone picking up her maiden medal at a national level (Bronze 500m TT, Masters 4), Bron Dolman excelling, also winning the 'Champion of Champions' for her Masters 2 age group (picking up an Aussie Keirin national title along the way, Silver in the Pursuit, Silver in Points, Bronze in the Scratch Race), and Michael Young far exceeding his target of 'a medal' to win several national titles, and Champion of Champions in Masters 8, collecting Gold in the Individual Pursuit, Points and Keirin, and Silver in the Sprint, TT and Scratch Race.
Enjoy Michael's recount of the event!
Nats Masters Track Championships 2020- Michael Young
Three years ago I went to the National Masters Track Championships in Sydney and my best efforts were fourth and fifth. I resolved that I would not return to the National Masters Track Championships until I was a lot faster, stronger and fitter.
One year of solid training and I still would not consider returning. Another year and I was happy with the SA Masters Track Championships but my form vanished shortly afterwards.
Ok, maybe next year, so I organised a proper training plan, really started training hard and sticking to it. Also recording what I actually did along side what I should have done.
Many thanks to Matthew Donnon for the program, version two. Huge thanks to Kerran for all the training sessions, encouragement, support and patience.
My training program became noticeably harder and harder towards the end and I was only just keeping up but while I had no injuries I didn't have a good reason to stop and quitting was not an option. I starting concentrating on just one day at a time and sticking to my weekly routine as much as possible. I also chose not to look at the start list of possible competitors or my training times.
Train/race, eat, but not too much, recover and sleep.
SA Masters Track Championships went well with just one easy day prior so then it was time to commit, book travel and accommodation. I think that the next week of training was one of the hardest I have ever done with the highest level of fatigue. I was dying to get to the days of taper. Money spent, no turning back now! Accommodation at the Brisbane Gateway Resort was excellent with everything we needed including free unlimited good WiFi. Good enough to allow me to upload photos daily to the cloud and keep up with the world.

The day before the start of the event Kerran organised us, PECs and me, to do a training session at the Annadome which was very worthwhile. We were able to organise our infield area and get a feel for the track. SA was allocated plenty of space in the good position. The Annadome facilities are excellent, the track is a little different from the Superdrome but after a few laps I was OK with it. Following the black line is easy but the flying 200m took a little longer to sort out but I was happy with the markers that I set for myself.
Still taking one day at a time, I now resolved to take just one race at a time and not browse the program. The weather was very kind to us, a little rain but not crazy hot or humid. After so much recent track training warm-up and infield tasks were automatic. Gear selection was pretty simple to as I was happy with my selections at the SA Masters Track Championships.

Thursday, Day one
Race one, 2000m IP heats. Kerran looked after me ensuring that I did enough to qualify.
Race two, 2000m IP gold/silver finals. Kerran was again looking after me but I made up ground on my opponent quickly and could see him at the end of the straight so I had a nice carrot to chase which helped heaps. I didn't catch but I didn't lose ground either. A big effort but in a little while I realised that I had achieved what I had came for, which was "a medal", not specifically a gold medal just a medal. This was a huge relief and I really felt that I had got the monkey off my back and anything else would be a bonus.

Friday, Day two
Flying 200m first, feeling good. Another practice in the warm-up and good to go. I got my lines good enough and posted a time that I was happy with. Close to a PB. Only three in my age group and I was never going to beat David Willmott so into the semi finals, best of three, for the right to challenge David for Gold. I drew the front and decided to hold it which allowed me to win round one. In round two the door opened and I again took the front and held it for a win. The Gold and Silver final against David was never really a contest. I
kept him guessing and had a crack but when he applied the power to the pedals he was gone. So Silver for the Sprints.

Saturday, Day three
Race One, 500m TT. Still feeling good, normal warm-up etc. Full gas effort with a good clean launch, held the black line fairly well for a reasonable time. Again, never going to beat David Willmott but clearly ahead of third so Silver it was.
Race two, 10km, 40 lap points, 4 sprints and no double points on the last Sprint. Only plus and minus 10 for laps gained/lost. Combined MAS7 and MAS8 so expecting this to be really hard. Sure was hard. I used a lot of energy to come fifth in the first Sprint, bugger, but no other MAS8 got points so no problem yet. Heart rate and breathing much to high to try for points in the second and third sprints but managed to keep an eye on the action at the front so I resolved that I must give it everything for the last Sprint. Ignoring my
body screaming at me and, yes, fourth, one point, quick look at the score board and yep, that is a gold medal. Also a new maximum heart rate but a gold medal makes the pain vanish quickly.

Sunday, Day four
MAS7 and MAS8 Keiren - Not feeling quite so good but it is the last day and only two more races so let's go. Decided to put the gear up two inches after looking at the competition. Forgot my helmet and had to run back for it so I had no time to be nervous on the start line.
I drew fifth and carefully noted that Gary Mandy (MAS7) was seventh, last. My plan was to wait for him to come past and hitch a ride. This turned out to be easy with him one back and on outside so when he launched with half a lap to go I gave it everything. He cleared out but
I also got a good gap so another Gold.
MAS7 and MAS8 10km Scratch. My legs and body were not fresh any more, unlike several of my new MAS7/MAS8 competitors. Whatever, this is always going to happen when you try to do every event. The race started hard so lots of effort required. I attempted to conserve in the middle of the race and my heart rate dipped somewhat. I covered moves by my MAS8 competitors and probably did too much work but I didn't want to go to far back in the group. The pace really picked up in the last half dozen laps and we were single file. I just could not move up to get past number 142 so even with another new maximum heart rate Silver was the result.
I truly had nothing left to give but it was all over now.
More presentations then a wait, fingers crossed, awesome, Champion of Champions! Such an honour, really proud of that.

All the officials and commissaires were very nice and did an excellent job day after day. I have had my bike weighed and checked more times than I can count.

Thank you to all the friends that have liked and commented on Facebook. Awesome to feel the support when you are so far from home. Thank you to Elizabeth, Simone, Brony, Michael Bails, Jan and Kerran for their support.
Elizabeth for actually making the trip with me and being the SA photographer. Photos will go up on Facebook in the coming days. Brony for her encouragement, smiles and taking endless photos for me on my phone.
Michael Bails for holding/pushing me in the Keirin. Michael actually held everyone for the Keirins which was great. Jan for her encouragement and smiles.
Simone for her encouragement and allowing me to look after her bike in her 500m TT in which she won a bronze medal and the flying 200m were I gave her a solid push start.
Kerran was an awesome/excellent coach for all of us whilst still competing in her own events which she gave 110% effort. I was also very pleased to be able to look after her bike several times. A push in the flying 200m, sprint rounds and bike transport up and down the stairs.
This was great experience and really good for my head and no problem because our events were so far apart.

Such an amazing four days of racing with results way beyond my wildest dreams. It was crazy hard mentally and physically but I would not want to be anywhere else.
One day without a bike and my legs, body and head crave for the exercise. When I committed to the Nationals this time I thought it would be a once in a lifetime experience. I got that right!
Will I go again, will it be on again next year, maybe, really hard to know in these troubled times but I there is plenty of time to think about it.
Several people have suggested that I have ruined my handicap but I am OK with that because it was absolutely worth it. Champion of Champions is right up there with winning a Wheelrace and getting my name on a trophy.

I am looking forward to being home and training with my cycling friends once again.

Full Championship Results Here.
Michael's photo albums: Indiv Pursuit, 200m + Sprint, TT, Points, Keirin, Scratch, Champion of Champions Podiums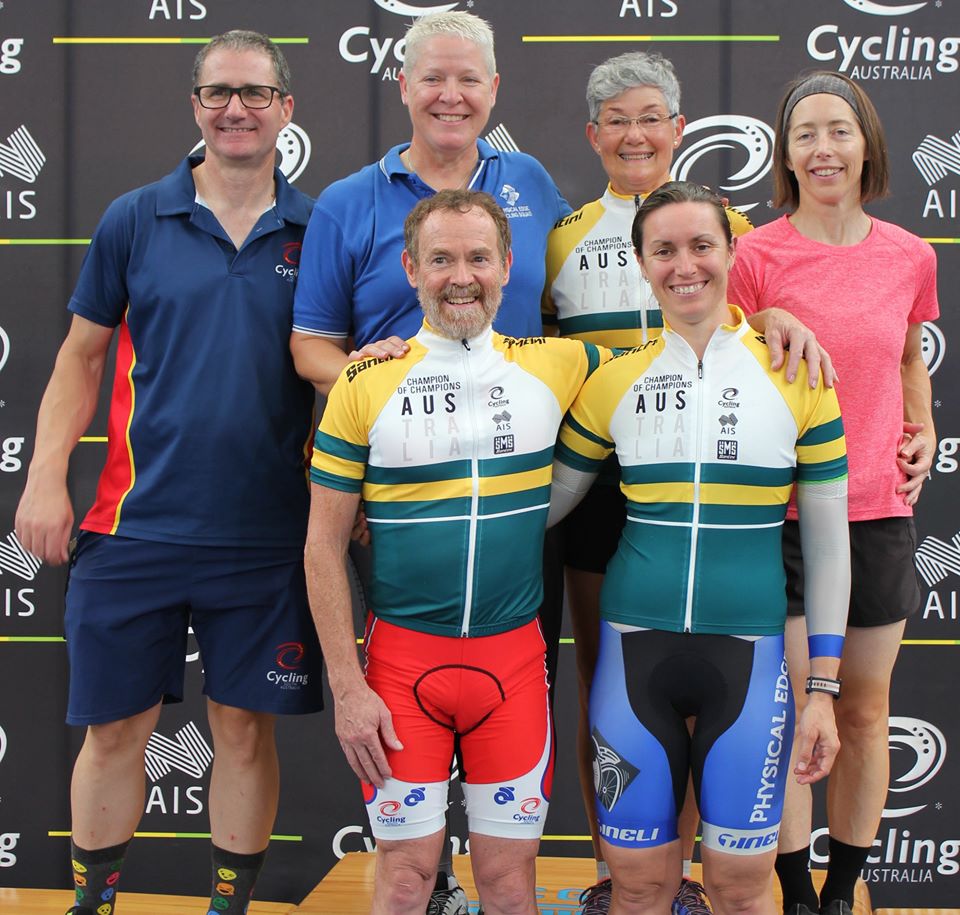 Back Row: Michael Bails, Kerran Oates, Jan Connoly (Kilkenny CC), Simone Niejalke (PACC)Front Row: Michael Young, Bron Dolman (PACC) Racing

,

Track

,

News