The first round of the 2021 'winter' season returned to Port Adelaide to race adjacent the Port Canal. In previous years at 'Goonbag park' we've been treated to a slick and slippery course, but with an absence of rain we were treated to a Sunday dusty sand bowl - and three-corner jacks that hadn't softened up yet. The off camber sections were tricky nevertheless as tyres cracked through the hard crust to uncover soft sand and even more three-corner jacks!
The mechanical (pneumatic?) challenges affected people in every race, from Little Xers right through to A-Grade, with almost 15% of the field DNF'ing. The most hardcore cyclo-crossers might be some of our club's junior girls, with both Gibson sisters managing to ride to the finish despite both riding a tyre completely off the rim, while Lazer Loz Dixon finished her race with a speedy yet stylish run. Boss.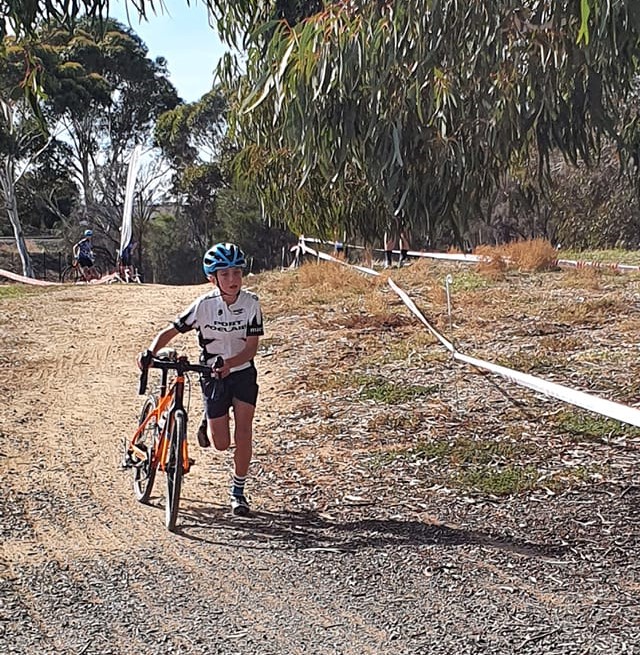 Welcome to the bunch of people who raced for the first time with us! We hope you enjoyed the camaradarie and close racing that is CX. Many people went above and beyond to help others, lending pumps and bottles of sealant to keep people racing and/or a bike to ride home on. A first timer to our club's cyclocross was the 2021 Melbourne to Warnambool winner Jensen Plowright who finished only 2min53 seconds back on the lead group, where Cameron Ivory and Tom Chapman were battling it out for the win. Ivory won over Chapman, with Australia's current Elite champion Chris Jongewaard in third.
In the Women's A-Grade, it was smiles all round for Tessa 'Bettong Babe' Manning who has been racing cyclo-cross with us since her junior years, as she had a breakthrough victory over a very fast-finishing Sarah Holmes. Holmes had a ripper last lap to catch up to Manning and force a sprint - but the Bettong Babe drew on her track experience and had the better kick to the line. In the mix was U17 Rider Jess Williams, who finished 3rd across the line to win 1st J17 rider and prove she's ready to race as an U19 in a few weeks.
Full results are available here:
PACC CrossMgr format: http://results.pacc.org.au/2021/CrossFireCup/Round1/
CrossResults.com format: https://www.crossresults.com/race/10192
Thanks to Rob for keeping the coffees flowing, and Trott Park Fencing club keeping the BBQ sizzling. Many thanks as always to those riders who ventured out early to set up, and those who hung around to pack down. Kudos to people who stepped up to help at sign-on for the first time and to our club's deficated panel of commissaires who keep the races running smoothly.
Did you take photos at the event and want to share? If you have a public album you can share it with the world at crossresults.com
While you're at crossresults.com you can see the results from around the country; on Sunday alone there were three CX races in Australia, with NSW racing the week before. NSW, Qld and Vic tend to use the same results platform, so soon you will be able to 'stalk that racer' with the National CX Series kicking off in Adelaide you might want to keep an eye on your competition and see how you rank!
Get your entries in for our next event which is our National Cyclo-Cross Series Double-Header at the Adelaide Superdrome, 5-6 June 2021.
Day 1: https://www.pacc.org.au/events/2021/06/2021-auscycling-cyclo-cross-national-series-rd-1
Day 2: https://www.pacc.org.au/events/2021/06/2021-auscycling-cyclo-cross-national-series-rd-2
Header Photo C/- Andy Rogers Fame&Spear
Results
,
Cyclocross