Sun, Aug 04, 07:30 AM
Gepps Cross
The unseeded start list is available here
Live results will load as each race starts and will be available at: http://results.pacc.org.au/2019/StateCXChamps/
Riders not contesting a championship can enter the support event on the day.
Race Schedule:
| Time | Activity | Comment |
| --- | --- | --- |
| 7:45 am | SET-UP | (Help please) |
| 8:30 am | Sign on opens | |
| 9:00 am | Course open for practice | Once signed on |
| 9:45 am | Little Xers | |
| 10:00 am | RACE1 | Juniors J9 + J11 (1 lap), J13 +J15 (2 laps), J17 (3 laps) |
| 10:35 am | RACE2 | Mens Masters 5, 6, 7+ Women Masters 1, 2, 3, 4, 5, 6, 7, Support Event (Men + Women) |
| 11:20 am | RACE3 | Mens Masters 1, 2, 3, 4 |
| 12:05 pm | RACE4 | Elite, U23, J19 Women |
| 1:00 pm | RACE5 | Elite, U23, J19 Men |
| 2:00 pm | Pack up and Presentations | |
Course Map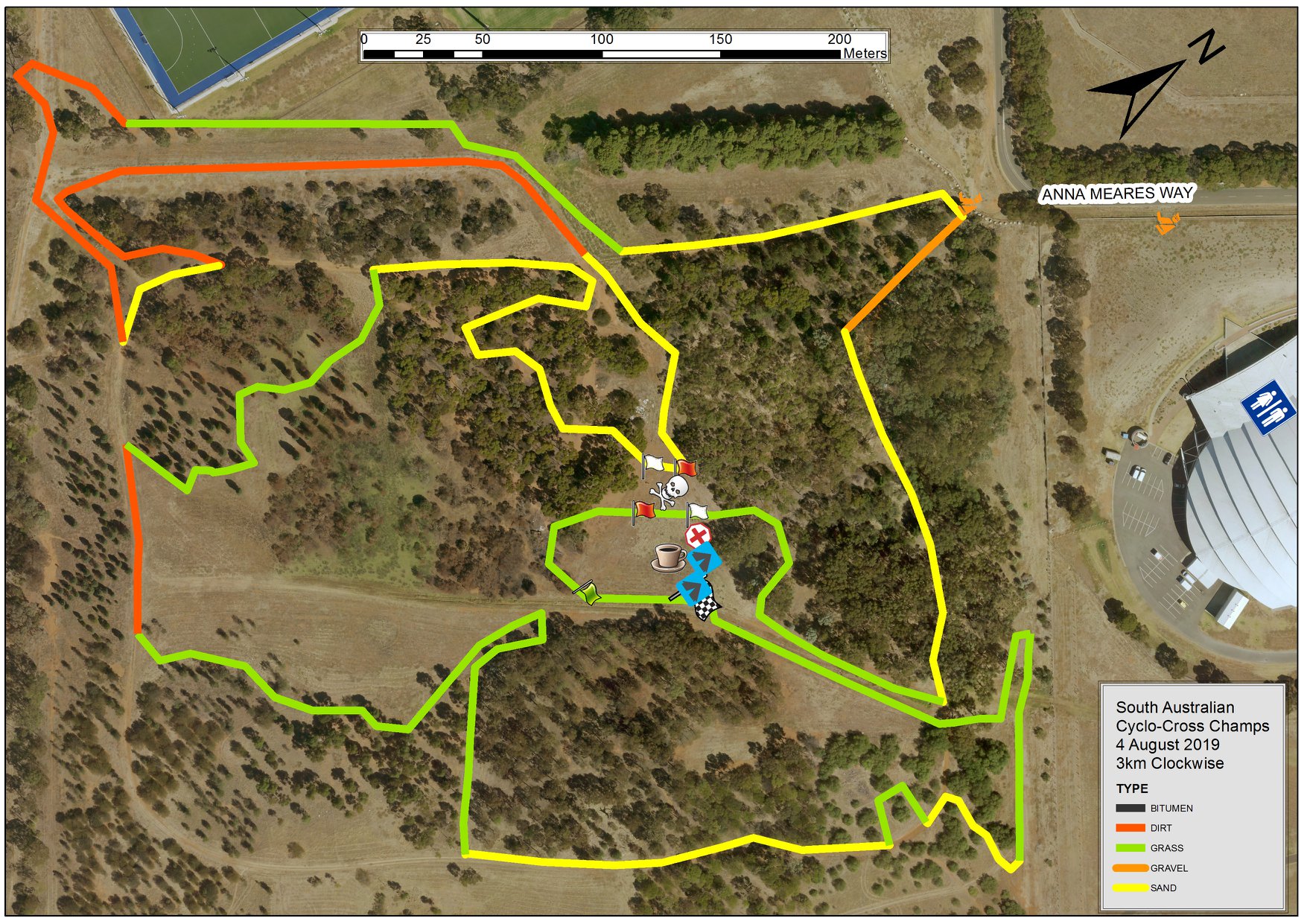 Race Sponsors: Big thanks to Focus Bikes, Cross Fit East Adelaide, Zero Friction Cycling and Schwalbe for supporting the club and our winter CX races.
Venue: Forester's Forest, Gepps Cross. If driving to the venue, park at the Adelaide Super-Drome car park, follow the signs to the competitor's entrance/carpark which is the southern side of the Super-Drome (where the Blind Date night race was based). The address is Anna Meares Way, off Main North Road. Click here for Google directions to the venue. The race is in the Foresters Forest next door, and the gates will be open in the lower Superdrome fence to ride/walk directly to the venue (gates shown as orange marshals on the course map, click here).
Volunteering: We need volunteers at 7:45am to help build the course and thanks to Schwalbe and Zero Friction Cycling, whoever helps build the course can win some Schwalbe tyres or a Zero Friction-prepared Molten Speed Wax Chain! So please, consider giving your time to help out the sport and club and get up early to help set up the 3km(!) long course. Helpers get priority sign-on so you get maximum warm-up time, as well as a close-up of the course while building it. After the last race of the day, we also need help to pack the course away so please hang around to help.
Toilets: Per the course map, they are in the Super-Drome. Enter the southern competitor's entrance, walk straight ahead along the corridor and you'll find the men's and women's facilities are on the right hand side of the corridor, and an accessible toilet is on the left. Facilities include changerooms, showers and toilets. Please do not enter any other areas in the Super-Drome (don't go down the track ramp, or up the stairs/lifts). Superdrome access is for use of the toilets/changerooms only. Note there are other athletes and groups using the Super-Drome during our event.
Coffee + Food: Rob from Espresso Mobile Coffee will be there to supply all your coffee and light snack needs. The Trott Park Fencing Club will have the BBQ sizzling, including vegan/vego options for brekkie and lunch.
Sign-on: Please sign-on at least 30min before your race, and show your race license at the desk. Proof of a valid membership is required to race - so check your expiry date now. People who helped with course construction - please jump to the front of the queue! Volunteers also welcome to assist with sign on to make the queue shorter! If you have entered your age group, and also are racing the Elite Championship, please sign on for the second event after your age-group race.
Race Timing: We will be running our own electronic timing system with live results. Results will appear when the races commence, and all live results are provisional. If you have raced with us before please remember to bring your PACC timing chip. A chip is required to race. If you forget yours, a new one can be made for you at the event for $10. If this is your first timed event with us, there will be a free timing chip waiting for you at the sign on desk. If you ordered a replacement or extra chip as part of your race entry, remember to collect it at sign-on. You cannot use someone else's chip. Chips must be affixed to the seat post of your bike like a little flag - it will not work otherwise. Remember, all of PACC's timed results can be found at results.pacc.org.au and you can navigate to any event from there using some logic (eg '2019' then 'State CX Champs', then select which race you're looking for).
Race Numbers: If you raced Crossfire Cup Round 1 (Mother's Day, May) or Round 2 (Port Adelaide) - bring the number you were issued at that race. If this is your fist PACC Club race this season, you will be allocated the number as allocated on the start list. You should have two race numbers. Put on the lower back (pocket area of your jersey) and one on your left rib cage so that it can be read when you're in the riding position. Do not lose your number, you will need it for your next race.
Racing: Please get to the start line at least 10min before your race's scheduled start. This includes the kids' races! Riders will be called up to take their start line position per their seeding. If you miss your call up because you're late, you start at the back. Listen to the Commissaire's instructions as many events have wave starts and different finishing times, or different numbers of laps to be raced.
Podiums: We will be holding podium presentations for all categories. The medals presented are for the photo opportunity only - medalists will receive personalised engraved medals and these will be available for collection at Hanson Clubrooms or at our next Crossfire Cup event. Please listen for announcements during the day for podium presentation times.