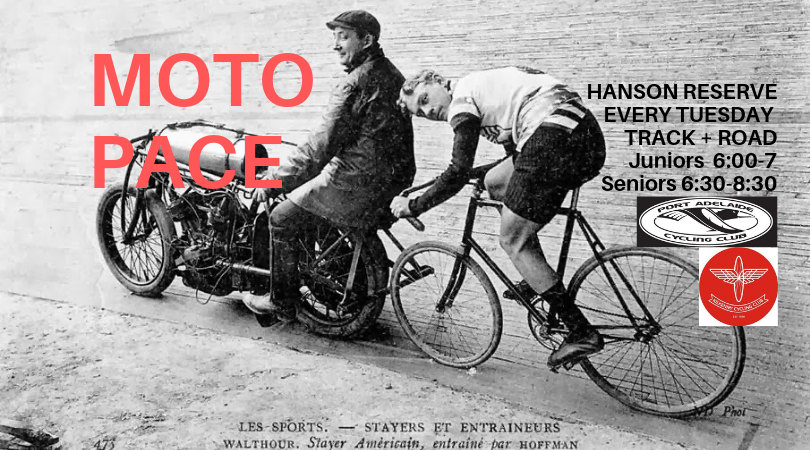 Motor Pacing at Hanson Reserve Velodrome on Tuesday nights is designed for you to get in some safe training in at a pace and effort level that suits you - from the beginner to the fastest and most experienced riders. Do as little or as much riding across the night as you want. Challenge yourself while training in a relaxed and supportive environment with Port Adelaide CC and Kilkenny CC. Road Bikes and Track Bikes may be used, but will strictly be kept separate while on the track. If you are new we expect you get there before 6:30pm for instructions.
Whether you are starting out, getting back into it or preparing for a specific event everyone on the night is encouraged to support and pass on their tips to those who may benefit from them.
The night is divided into several blocks and is designed for people to be able to turn up when it suits them, and do as little or as much as they like:
6pm-6:30pm – Juniors general swap-off. Seniors are allowed to warm-up and ride with the kids - Track Bikes only.
6:30pm-7pm. Two Motorcycles will be on track, pacing on the stayers line. Moto 1 will pace for Track Bikes only. Moto 2 will be half a lap away, and will be pacing for Road Bikes only. Ensure you know which bike is which before joining in. The pace will gradually rise from 30 to 35kmh, with riders to do one-lap turns behind the Moto. Efforts every 3.5km(ish)
7pm-7:10pm Motor Pacers have a rest – juniors finish.
7:10-8pm – Moto will gradually increase speed from 35kmh to 45kmh, efforts every 3.5km (ish) alternately between bikes.
8pm-? Bike continues to increase speed till no riders are left. Road riders please leave the track when you're done.
?-8:30 Track bikes warm-down. Lights out on track by 8:30pm
Things you need to know about Motorpace Tuesdays
You're expected to know and understand the local track etiquette. You should understand the track markings.
SIGNING ON: Sign on in the club rooms before going on the track. Bring your CA or MTBA recreation or competition membership. and $5 in correct change. If you are unsure about anything, please ask a coach or official before getting on the track.
JOINING IN: To join your bunch, enter the track at the gate, stay very high riding right on the fence, and use the banking to join the back of your group.
RIDING BEHIND THE BIKE: In Motorpacing, the aim is to stay as one long single-file group and smoothly rotate turns. We will be pacing on the Stayers Line. Don't ride two abreast. Don't overtake the rider in front of you, unless he/she swings off. If you need to drop out, don't let a gap develop, as the rider behind you will struggle to close the gap and the group will fracture. To prevent a gap developing, put in one last effort to pull your wheelman up to the wheel in front, and then swing out of the group to the high side (if safe to do so – remember to check over your shoulder, indicate with an elbow 'flick', then gently move upwards). You can then slowly circulate on the fence until you can exit the track, or you can drop back in the end of the bunch if you have caught your breath and want to go again. Don't circulate on the fence longer than needed to get on or off your bunch, exit the track for a rest and food/drink.
SWAPPING TURNS: The motorbike will pace on the Stayers Line. Swap turns every lap behind the bike, don't hog the best spot, share the love! Due to prevailing wind, it is usually easier to swap off in the back straight and using Turn 3. If you are the rider behind the motorbike, at about the pursuit line, have a look up over your right shoulder to make sure no one is coming past (they shouldn't be, but you never know) and if clear, slowly move about one meter to the right, and accelerate so you are riding two abreast, right next to the motor bike. This helps drag the second rider to the back of the motorbike and provides them with some shelter. Then when alongside, check over your shoulder again, check forwards along then fence line, and then gently move up towards the fence, and roll to the back, using the track's slope to help you rejoin the back of the line.
EFFORTS: At designated laps, your bike's group will have an opportunity to sprint away from the bike. Efforts/fast stuff happens on the Pole Line. When the whistle goes when you are in the back straight, make a decision then (or some time in turns 3 or 4) to look over your left shoulder to ensure you're not going to chop someone off, and gently drop down into the Pole Line and do your effort. Go on your own, or work with others on the Pole line, remembering when swapping turns to be very careful to stay under the Stayers line and the other bikes/motos. When you are done with your effort, carefully check over your shoulder that there's no one coming from behind, then move to the stayers line then to the fence line, and re-join your motor group from the higher part of the track. You can try to take a lap on the motorbike, but the track is long! (404.48m)